Education Program (Girl Child Education)
1. Spelling Bee Competition (2007)
Students were selected across 7 schools in Katsina State for a spelling bee competition which was initiated and conducted by us. This was motivated from the fact that since children are required to spell words while on stage, it will develop their self-confidence, communication and public speaking skills, and the ability to thrive under pressure.
2. Islamiyah Classes and Adult literacy classes (2007-Date)
Good Governance and Civic Engagement (Open Government Partnership, Anti-Corruption Crusade, Transparency and Accountability, Electioneering
1. Digital Identity Ecosystem (February 2021-Date)
In February 2020, the World Bank Board, working with other development partners including the European Union under its Identification for Development (ID4D) program with the goal of providing everyone on the planet with a legal identity by 2030, approved a loan of USD 115 million to enable the National Identity Management Commission to increase the number of persons with a national ID number in Nigeria to 148 million by July 2024. The National Identity Management Commission got additional co-financing of USD 315 million from the European Investment Bank and the French Agency for Development. This brought about the Digital Identity Ecosystem.
The Digital Identity Ecosystem is a framework involving the NIMC working with public and private service providing partners to create an enabling environment for the effective and efficient mass enrolment of Nigerians and legal residents in Nigeria into a centralized, secure National Identity Database where digital identities are issued to everyone in the form of the National Identification Number (NIN). The initiative aims to improve identity authentication of citizens and make all identity-related transactions safe within and outside the country.
Murna Foundation is a licensed private vendor for the Digital Identity Ecosystem using our own resources (which is remunerated on a pay-per-play basis) to carry out enrolment and NIN issuance services, contribution towards providing identity number, to establish a credible National Data Base and creating a fully digitalized economy. We strongly believe that it will not only curb the present security challenges but also provide sustainable opportunities to wider range of the nation's population. From February 2021-Date, we have had 450,000 enrolments, with 385,000 (182,000 males and 203,000 females) successfully issued NIN.
2. Inclusion for All (2022)
According to the World Bank Identification for Development (ID4D) initiative, an estimated 1 billion people globally do not have an officially recognised means of identification (ID), with the problem most prevalent in low-income countries (LICs).
In Nigeria, Africa's largest and most populous economy, despite a significant acceleration in enrolment over the last 12 months, and a strong strategy and plan to achieve ID inclusion for every Nigerian, there remains significant work to do. The Nigerian Identity Management Commission (NIMC) had enrolled more than 63 million Nigerians with National Identity Numbers (NIN) by August 31st 2021, up from 42 million in October 2020 and clear evidence of progress, but a significant proportion of Nigerians still remain without a form of formal ID and the majority of them live below the World Bank's definition of the poverty line.
Africa Practice's Inclusion for All programme is focused on understanding and removing the barriers that prevent the poorest and most vulnerable populations from participating in the formal economy and accessing financial services. Identity ownership is a critical requirement for participation. It enables access to government services, access to the financial system and free movement.
To build a deeper understanding of the linkages between poverty, identity ownership and financial inclusion, Africa Practice is conducting a series of pieces of research to deepen the knowledge and evidence base available to policy makers and implementers. Murna Foundation took part in the research as consultants for undertaking the survey in 3 LGAs (Batagarawa, Funtua, Daura) of Katsina State.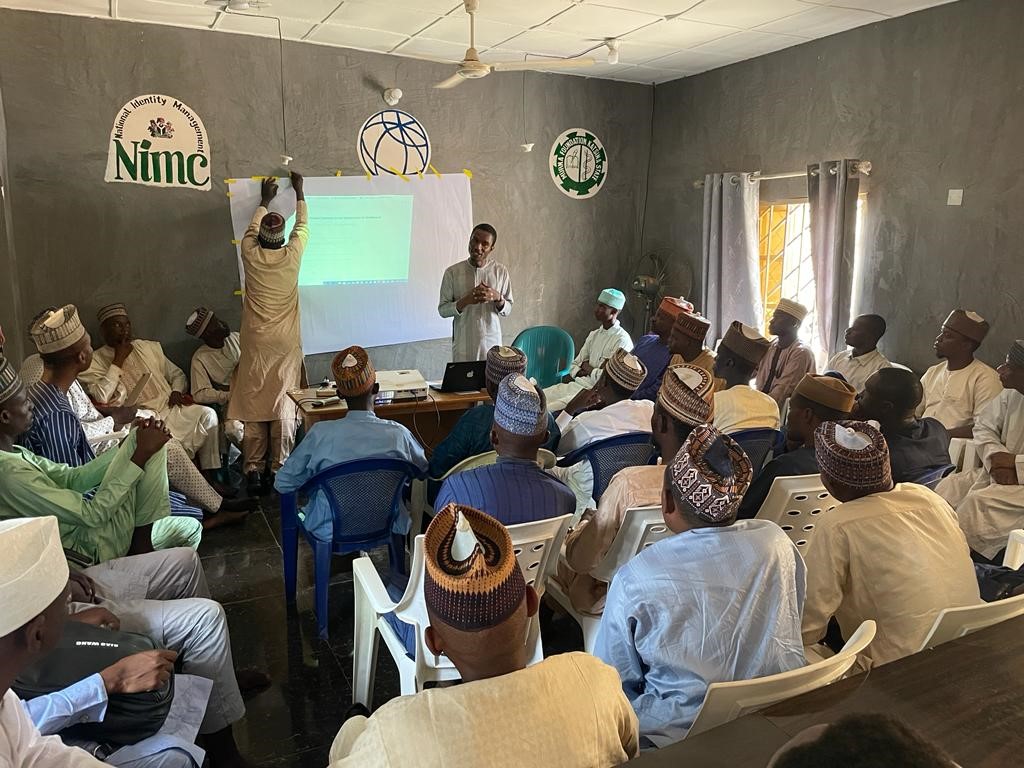 3. Democratic Processes
a) EiE NIGERIA project in partnership with Progress and Development Initiative (PDi)
We conducted radio talk show programs on vision FM Katsina tagged the peoples parliament from 2018-2019 and organised a town hall meeting on citizen engagement and participation in the electoral process in 2019.
b) National Democratic Institute (NDI)
We deployed over 100 local observers reporting real time election activities and events across the 3 senatorial zones of Katsina State in 2019.
c) Independent National Electoral Commission (INEC)
Deployment of over 71 INEC local observers to monitor elections across Katsina state in 2015
d) Murna Foundation
Organised a town hall conversation about importance of peaceful elections in Batagawa LGA of Katsina State in 2015.
e) International Foundation for Electoral Systems/ Election Violence Education and Resolution (IFES/EVER PROJECT)
We undertook awareness creation and sensitization on electoral violence education and resolution in 2007. Also took part in political party finance monitoring in 2006.
f) International democratic institute of South Africa (IDASA)
Election observer and voter education project in 2006-2007.